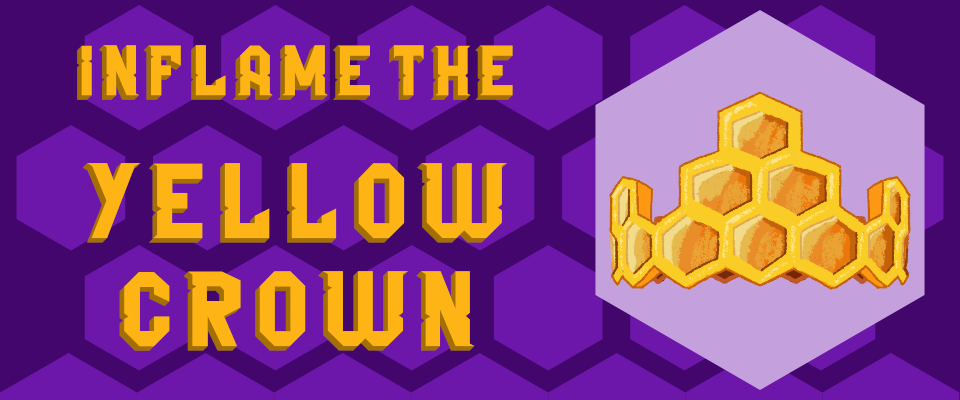 Inflame the Yellow Crown
A beehive, dormant for generations, is broken into by a band of ambitious bandits looking for a home. The bandits rebrand themselves Buzzkills, and begin terrorizing the locals. However, the Hive isn't the secure fort they thought it was, and they soon find themselves in thrall to an ancient Queen Bee Sorceress, and her resurrection is at hand.

Can brave mouse adventurers stop the ancient queen's resurrection? Will they save the Buzzkills from the queen's hold? Or will they just take the treasure and run?

Inflame the Yellow Crown is a beehive crawl for the Mausritter RPG. It includes:
A dungeon crawl through the ancient hive-tomb of the sorceress Queen Melys amidst her broods resurrection
A lightly detailed hex to slot into an ongoing hexcrawl
10+ new items, including Melys's legendary sabre, magical restorative honey, and a Soul-trapping Jar
2 new bee-themed spells and unique beeswax spell tablets
A set of 6 hooks to get your players invested
Also see the markdown/css that generates the HTML here: https://github.com/brstf/inflame-the-yellow-crown
Included is a player-facing map for use with virtual table tops with the secret door wall obscured with hatching (hive-tomb-map-player.png)
Credits
Map: The Goatherd's Shrine by the inimitable Dyson Logos
Made for the Dyson Logos Jam , Random Adventure Jam, and Markdown Jam
Inflame the Yellow Crown is an independent production by Brian Stauffer and is not affiliated with Losing Games. It is published under the Mausritter Third Party Licence.

Mausritter is copyright Losing Games.

Download
Click download now to get access to the following files:
inflame-the-yellow-crown-a6-spreads.pdf
7 MB
inflame-the-yellow-crown-a6-singles.pdf
inflame-the-yellow-crown-items.pdf
340 kB
hive-tomb-map-player.png
4 MB
inflame-the-yellow-crown.epub
3 MB